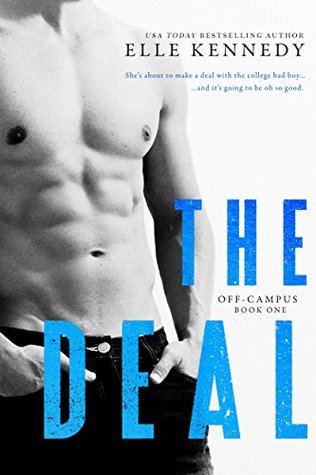 She's about to make a deal with the college bad boy…
Hannah Wells has finally found someone who turns her on. But while she might be confident in every other area of her life, she's carting around a full set of baggage when it comes to sex and seduction. If she wants to get her crush's attention, she'll have to step out of her comfort zone and make him take notice…even if it means tutoring the annoying, childish, cockycaptain of the hockey team in exchange for a pretend date.
…and it's going to be oh so good
All Garrett Graham has ever wanted is to play professional hockey after graduation, but his plummeting GPA is threatening everything he's worked so hard for. If helping a sarcastic brunette make another guy jealous will help him secure his position on the team, he's all for it. But when one unexpected kiss leads to the wildest sex of both their lives, it doesn't take long for Garrett to realize that pretend isn't going to cut it. Now he just has to convince Hannah that the man she wants looks a lot like him.
I read this book for A Book Nirvana monthly read-a-long, I really wanted to read this story I got told multiple times by so many people this is the New Adult thing to read. Now I've read a lot of New Adult so I had very high expectations and it didn't disappoint although I had some slight problems with the book, which really disappointed me.
So one of the problems I had with this book is the slut shaming! In the story we are told that Hannah was raped and this follows Hannah regaining her sexual intimacy and feeling that is okay for her to have sex again and let someone in again. I thought all that was great, Hannah was not slut shamed at all, my problem was Hannah was so quick to judge and slut shame other girls yet they couldn't be as sexually liberated as she was. I get that we all sometimes are quick to judge, I feel like for Hannah a girl who has been raped would understand that girls can be sexually liberated and not be sluts. Just the topic in this book it wasn't necessary to slut shame the other females in this book.
My other problem with this book, not really a problem but I felt like should have maybe been done in this book is Hannah fighting the demons of her hometown, we see Garret facing his. Sure Hannah did face hers but it would have been nice if she could have gone home to her family with her head held up high saying that she was innocent. Especially as so many times in society, the girls are seen as criminals and in this story, she was seen as an innocent to everyone at the college. I just wish that she had a chance to go to her hometown and face the demons. Not so much bad but more something that I wish was included.
Now onto the good things.
I loved Hannah other than the slut shaming, I loved the fact she was so willing to let Garret help her when it came to her sexual dysfunction as she called it in this book. I thought she was very judgemental when it came to Garret she brushed him with a man whore brush without giving a chance to really help him or tutor him. Luckily Garret was very persistent. A few times I found her to be very stuck up but I was very happy that she did have flaws and she wasn't seen as some perfect woman because she wasn't. She had her flaws and I loved that.
Garret. My baby. I fell in love with him almost immediately. I loved his humour and the flirty. I had to say I jumped to conclusions with him and I felt terrible. It was after Hannah and Garret got together and everything was great and you always know like most NA books something is going to happen. I assumed it was going to be Garret's fault immediately and I felt so terrible when it wasn't him that did it. If you've read you know what I mean but damn did I feel bad. Anyway, I loved his character, his background, I really enjoyed his character.
I loved the chemistry that Garret and Hannah have for stories the chemistry is always so important for me. I fell in love with their relationship so fast and I just loved them both so much they gave me all the feels. I have to say the sex scenes were written very well and although I've had conversations with my friends Gabby and Emer about the frequency of sex in this book and for me I didn't think it was a lot and there was a fine amount and it didn't bother me. I know both Gabby and Emer felt at times it was too frequent and pretty much straight after each other but I had no problem and I loved it!
I loved the side characters, Dean should learn to knock! There's a certain place in this book where I literally wanted to scream at Dean for not locking or actually Garret for not having a lock on his door! I loved Beau, I really enjoyed this chapter. To be honest I loved all the side characters which is why I know for a fact I will be reading the other books in this series and I can't wait until I get to dive in and read them!
As you can tell I really enjoyed this book and I shall be reading the others in the off-campus series! I rated this ⭐️⭐️⭐️⭐️